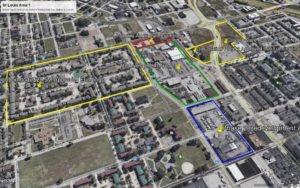 The BC/MHG project site is based in Ward 5 of the City of St. Louis. Ward 5 is represented politically by Alderwoman Tamika Hubbard and encompasses all of Carr Square. Carr Square is a neighborhood of St. Louis, Missouri. The near Northside neighborhood is bounded by Cass Avenue on the North, Cole Street on the South, North Tucker Boulevard and North 13th Street on the East, and North Jefferson on the West. It was the site, from 1954 to 1971, of the infamous Pruitt–Igoe public housing complex. Carr Square general boundaries are defined as Cass Avenue on the North, southward to N. 13th Street to N Tucker Blvd. on the East westward to Cole Street on the South, northward to N. Jefferson Avenue on the West to Cass Avenue.
The BC/MHG Carr Square Development Site enjoys the strategic benefit of having a close proximity to the downtown area of St. Louis and moments from the planned NGA facility. The economy of metropolitan St. Louis relies on service, manufacturing, trade, transportation of goods, and tourism. Its metro area is home to major corporations, including Anheuser-Busch, Express Scripts, Centene, Boeing Defense, Emerson, Energizer, Panera, Enterprise, Peabody Energy, Ameren, Post Holdings, Monsanto, Scottrade, Edward Jones, Go Jet, Purina and Sigma-Aldrich. Nine of the ten Fortune 500 companies based in Missouri are located within the St. Louis metropolitan area. This city has also become known for its growing medical, pharmaceutical and research presence. St. Louis has two professional sports teams: the St. Louis Cardinals of Major League Baseball and the St. Louis Blues of the National Hockey League. The city is commonly identified with the 630-foot (192 m) tall Gateway Arch in the city's downtown.
Deploying industry best practices at each stage of the Design and Build process, Team BC/MHG will ultimately endeavor to deliver on the various aspects expressed within a twenty-year contract lifespan. Team BC/MHG has created a very high-level rendition of what might occur, by project completion phase, during this period of performance. The phases listed and illustrated below will absolutely deliver on the requirements as we know them today. Respectively, the current Design, Build schedule is as follow:
A. Design, Build of Retail and Residential Units – Building 1A;
B. Design, Build of Retail, Office and Residential Units – Building 1B;
C. Design, Build of Retail, Office and Residential Units – Building 1C; and,
D. Infrastructure improvements.
Bringing 180 direct jobs to the Carr Square area will be transformative. As a complement to this significant endeavor, BC/MHG will also have a positive impact in indirect employment numbers also as the narrative associated with these Developments are considered and to determine the value-add proposition in improving the areas Tax base and Income Multipliers; both essential in calculating employment impact.